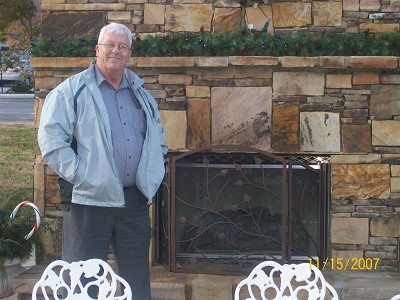 Our church was founded in 1975 by its current pastor, Preston Parker. Pastor Parker is a graduate of Tennessee Temple College in Chattanooga, TN
Our church is independent,fundamental, premillennial, and non-charismatic. The ministry of the church emphasizes the Bible as God's Holy, Inspired and Infallible Word.
We preach the Book, the Blood, and the Blessed Hope!
THE BOOK- The Bible we use, believe, and endorse for the English speaking people is the King James Version of God's Word. God inspired His Word (2 Timothy 3:16) and also preserved It (Psalm 12:6-7). We have God's Word today. The Bible is God's Book of instructions for those who know Jesus Christ as their Lord and Savior (2 Timothy 3:17).

THE BLOOD- The Bible tells us the importance of the Blood. Colossians 1:14 says, "In whom we have redemption through His Blood, even the forgiveness of sins." The shed blood of Christ is essential to a person's salvation.

THE BLESSED HOPE - This refers to a future event (Titus 2:13) we call the "Rapture." This event will certainly occur one day, and yet, only for those who have received Jesus Christ as their Lord and Savior. The Rapture will occur when Jesus comes and calls His saints (Christians) home to Heaven (1 Thessalonians 4:13-17). At that time, we Christians will not see death; but will be transformed with a new body and translated into heaven (1 Corinthians 15:51-57).
WHAT WE BELIEVE
1. ABOUT THE SCRIPTURES. We believe that only the Authorized King James Version (1611) is the inspired, preserved, and infallible Word of God.
"The words of the LORD are pure words; as silver tried in a furnace of earth, purified seven times. Thou shalt keep them, O LORD, thou shalt preserve them from this generation for ever" (Psalm 12:6-7).
"Man shall not live by bread alone, but by every word that proceedeth out of the mouth of God" (Matthew 4:4b).
"All scripture is given by inspiration of God, and is profitable for doctrine, for reproof, for correction, for instruction in righteousness: That the man of God may be perfect, throughly furnished unto all good works" (2 Timothy 3:16-17).
2. ABOUT GOD. We believe God is holy, omnipotent (all powerful), omniscient (all knowing), and omnipresent (present at all times). We believe that God exists as a Trinity. He is God the Father, God the Son, and God the Holy Spirit. Jesus is God the Son, Who came down from Heaven, manifested Himself in the flesh for the express purpose of dying for mankind's sin.
"For there are three that bear record in heaven. The father, the Word, and the Holy Ghost: and these three are one" (1 John 5:7).
"For our God is a consuming fire" (Hebrews 12:29).
"This is a faithful saying, and worthy of all acceptation, that Christ Jesus came into the world to save sinners; of whom I am chief" (2 Timothy 1:15).
3. ABOUT HELL. We believe that Hell is a literal place originally designed for the devil and his angels. Those who do not choose Life (Jesus) will spend eternity separated from God.
"And in hell he lift up his eyes, being in torments, and seeth Abraham afar off, and Lazarus in his bosom" (Luke 16:23).
"But the fearful and unbelieveing, and the abominable and murders and whoremongers and sorcerers and idolators and all liars shall have their part in the lake which burneth with fire and brimstone: which is the second death" (Revelation21:8).
4. ABOUT SALVATION. We believe that mankind is hopelessly lost and in need of a Savior. Jesus died on the cross to pay the penalty of sin for us. His death is that payment, which is offered to "whosoever will" accept His free gift of salvation. Salvation is obtained only by trusting that His precious shed blood is sufficient. No amount of good works, church membership, baptism, or religious activity can save. We encourage you to receive this free gift today.
"Jesus answered and said unto him, Verily, verily, I say unto thee, except a man be born again, he cannot see the kingdom of God" (John 3:3).
"For all have sinned and come short of the glory of God" (Romans 3:23).
"But God commendeth his love toward us, in that, while we were yet sinners, Christ died for us" (Romans 5:8).
"Wherefore, as by one man sin entered into the world, and death by sin; so death passed upon all men, for that all have sinned" (Romans 5:12).
"For the wages of sin is death, but the gift of God is eternal life through Jesus Christ our Lord" (Romans 6:23).
"That if thou shalt confess with thy mouth the Lord Jesus, and shalt believe in thine heart that God hath raised him from the dead thou shalt be saved" (Romans 10:9).
"For with the heart man believeth unto righteousness: and with the mouth confession is made unto salvation" (Romans 10:10).
"For whosoever shall call upon the name of the Lord shall be saved" (Romans 10:13).
5. ABOUT BAPTISM. We believe that baptism is one of two ordinances given to the New Testament church for believers as identification of salvation. We believe water baptism should be by total immersion. This shows the death, burial, and resurrection of the Lord Jesus Christ.
We also believe that a spiritual baptism occurs at the moment of salvation, when the believer is baptized by the Holy Spirit into the Body of Christ.
"For by one Spirit we are all baptized into one body, whether we be Jews or Gentiles, whether we be bond or free; and have been all made to drink into one Spirit" (1 Corinthians 12:13).
"For as many of you as have been baptized into Christ, have put on Christ" (Galatians 3:27).